Peningkatan Kompetensi Perawat tentang Deteksi Dini Sirkulasi Perifer pada Penderita Diabetes Mellitus Tipe II
Keywords:
diabetes mellitus, palpasi nadi dorsalis pedis, sirkulasi perifer
Abstract
Diabetes mellitus (DM) dapat memicu timbulnya komplikasi seperti penyakit sirkulasi perifer yang dapat menyebabkan Peripheral Artery Disease (PAD) dan dapat dideteksi menggunakan palpasi nadi dorsalis pedis. Kompetensi perawat dalam melakukan pemeriksaan ini sangat dibutuhkan agar penderita DM terhindar dari komplikasi. Penelitian ini bertujuan untuk meningkatkan kompetensi perawat tentang deteksi dini sirkulasi perifer dengan palpasi nadi dorsalis pedis pada penderita DM tipe II. Penelitian ini adalah penelitian kuantitatif observasional dan menggunakan desain pre-post test design with one group. Populasi dalam penelitian ini adalah seluruh perawat di Puskesmas Putri Ayu Kota Jambi sebanyak 39 responden dengan tehnik sampling yaitu total sampling. Pengumpulan data dilakukan dengan mengukur kompetensi responden sebelum dan sesudah diberikan intervensi dengan metode demonstrasi dan simulasi pemeriksaan palpasi nadi dorsalis pedis. Data dianalisis secara univariat dan bivariat dengan menggunakan uji wilcoxon. Ada perbedaan kompetensi perawat dalam melakukan deteksi dini sirkuasi perifer dengan palpasi nadi dorsalis dengan nilai p sebesar 0,000. Pemeriksaan palpasi nadi dorsalis pedis sebagai deteksi dini sirkulasi perifer dapat diaplikasikan dan dijadikan acuan dalam pencegahan komplikasi pada pasien diabetes mellitus.
References
Aulia, R., & Sasmita, J. (2014). Pengaruh Pendidikan dan Pelatihan Kepuasan Kerja dan Kepemimpinan terhdaap Kinerja Perawat Rawat Inap di RSUD Kabupaten Siak. Jurnal Tepak Manajemen Bisnis, 4(2); 63-72.
Brekke, M., Hogstad, P. H. (2010). New teaching methods - Using computer technology in physics, mathematics and computer science. International Journal of Digital Society (IJDS), 1(1), 18–24.
Delazer, A. Ischebeck, F. Domahs, L., Zamarian, F. Koppelstaetter, C. M., Siedentopf, L. Kaufmann, T. Benke, S., & Felber. (2009). Learning by strategies and learning by drill—evidence from an fMRI study. NeuroImage, 25(2005), 838–849.
Eizenberg, M. (2011). Implementation of evidence‐based nursing practice: nurses' personal and professional factors? Journal Advance Nursing, 67(1), 33–42.
Ganong, William, F. (2008). Buku Ajar Fisiologi Kedokteran (22nd ed.). Jakarta: EGC.
Haswita & Lina, A. (2014). Implementasi Metode Drill and Practice Kompetensi Anatomi Fisiologi SistemKardiovaskuler terhadap Peningkatan Prestasi Belajar Mahasiswa Semester I Prodi DIII Keperawatan Akademi Kesehatan Rustida. Jurnal Ilmiah Kesehatan Rustida, Vol. I, No. 1.
Hinno, S., Partanen, P. & Vehviläinen-Julkunen, K. (2012). The professional nursing practice environment and nurse-reported job outcomes in two European countries: a survey of nurses in Finland and the Netherlands. Scandinavian Journal of Caring Sciences, 26(1), 133–143.
Hurst, M. (2016). Keperawatan Medikal Bedah. Jakarta: EGC.
International Diebetes Federation. (2019). IDF Diabetes Atlas (9th ed.).
Jeffries, P. R., & Norton, B. (2005). Selecting learning experiences to achieve curriculum outcomes. In D. M. Billings & J. A. Halstead (Eds.), Teaching in nursing: A guide for faculty (2nd ed.). St. Louis, MO: Saunders/Elsevier.
Kani, U. M., & Sa'ad, T. A., (2015). Drill as a Process of Education, 7(21), 175–178.
Kemenkes RI. (2019). Hasil Utama Riskesdas 2018. Jakarta.
Kristiani, A. L., Sumangkut, R. M., Limpeleh, H. P. (2017). Hubungan Ankle Brachial Index Dengan Keparahan Ulkus Pada Penderita Kaki Diabetik (DM), 171–177.
Kuntoadi, B. A. (2019). Buku Ajar Anatomi Fisiologi Untuk Mahasiswa APIKES-Semester 1. Jakarta: Pantera Publlishing.
Lee, S. K., Pardo, M., Gaba, D., Sowb, Y., Dicker, R., Straus, E. M., . . . Knudson, M. M. (2003). Trauma assessment training with a patient simulator: A prospective, randomized study. Journal of Trauma, 55(4), 651–657.
Leftheriotis G, Kauffenstein G, Hamel JF, Abraham P, Le Saux O, Willoteaux S, et al. (2014). The Contribution of Arterial Calcification to Peripheral Arterial Disease in Pseudo- xanthoma Elasticum. PLoS One, 9(5).
LMcGee, S. R., & Boyko, E. J. (2013). Physical examination and chronic lower-extremity ischemia: a critical review. Arch Intern Mat, 1357–1364.
Londero, A. S. dan J. F. (2016). A blend of benzoic acid and essential oil compounds as an alternative to antibiotic growth promoters in broiler diets. The Journal of Applied Poultry Research, 00, 1–9.
Merdekawati, D., & Astuti, A. (2017). Drill Method to Improve Diabetic Ulcer Treatment Competency, 36–43.
Mulyadi & Hutauruk, M. (2018). Evaluasi Efektivitas Pemeriksaan Palpasi Nadi Kaki Untuk Mendeteksi Angiopati Pada Penderita Diabetes Melitus Di Unit Rawat Jalan Rumah Sakit Siloam Manado, 6.
Muslih, M. (2009). KTSP: Pembelajaran Berbasis Kompetensi dan Kontekstual. Jakarta: Bumi Aksara.
National Diabetes Programme. (2014). Model of Care for the Diabetic Food-pdf.
Pina, L., Astuti, A., Merdekawati, D. (2020). Deteksi Dini Sirkulasi Perifer Dengan Palpasi Nadi Dorsalis Pedis Dan Pemeriksaan Doppler Pada Penderita Diabetes Mellitus Tipe II. Skripsi Sekolah Tinggi Ilmu Kesehatan Harapan Ibu Jambi.
Price & Wilson. (2013). Patofisiologi (6th ed.). Jakarta: Gramedia Pustaka Utama.
Rika, S. (2017). Pengaruh Pembelajaran Interaktif dengan Strategi Drill terhadap Kemampuan Pemahaman Konsep Matematika Mahasiswa. JPPM, 10(2).
Rosdahl, C. B., & Kowalski, M. T. (2017). Buku Ajar Keperawatan Dasar. Jakarta: EGC.
Satriani, Yusuf, S. & K. (2017). Hasanuddin Student Journal, 1(2), 120–126.
Sibbald, G., et al. (2012). Screening for the high-risk diabetic foot: a 60-second tool. AdvSkin Wound Care, 25(10).
Sudira, I. N., Suhandana, A., & Marhaeni, A. A. I. N. (2013). Prestasi Belajar Seni Tari Ditinjau Dari Kreativitas Pada Siswa Kelas X Smk Negeri 3 Sukawati, 4(3).
Sudoyo, A. W. (2014). Buku ajar ilmu penyakit dalam jilid I (VI). Jakarta: Interna Publishing.
Vienna, V. (2012). Vascular Disease Foundation: Peripheral artery disease.
Walton, J., Chute, E., & Ball, L. (2011). Negotiating the role of the professional nurse: The pedagogy of simulation: A grounded theory study. Journal of Professional Nursing, 27(5), 299–310.
Waspadji. (2014). No Title (4th ed.). Jakarta: FK UI.
Wenno, I. H., Wattimena, P., &, & Maspaitela, L. (2016). Comparative Study between Drill Skill and Concept Attainment Model towards Physics Learning Achievement. International Journal of Evaluation and Research in Education, 5(3), 211–215.
Whitman, B.,& Backes, A. (2014). The importance of role direction in simulation. Clinical Simulation in Nursing, 10(6).
Zapko, K.A., Ferranto,M.L., Brady, C., Corbisello, A., Hill, D., Mullen, R., DeFiore Golden, P., and Martin, L. (2016). Interdisciplinary Disaster Drill Simulation: Laying the Groundwork for Further Research. Nursing Education Perspectives, 36(3), 299–302.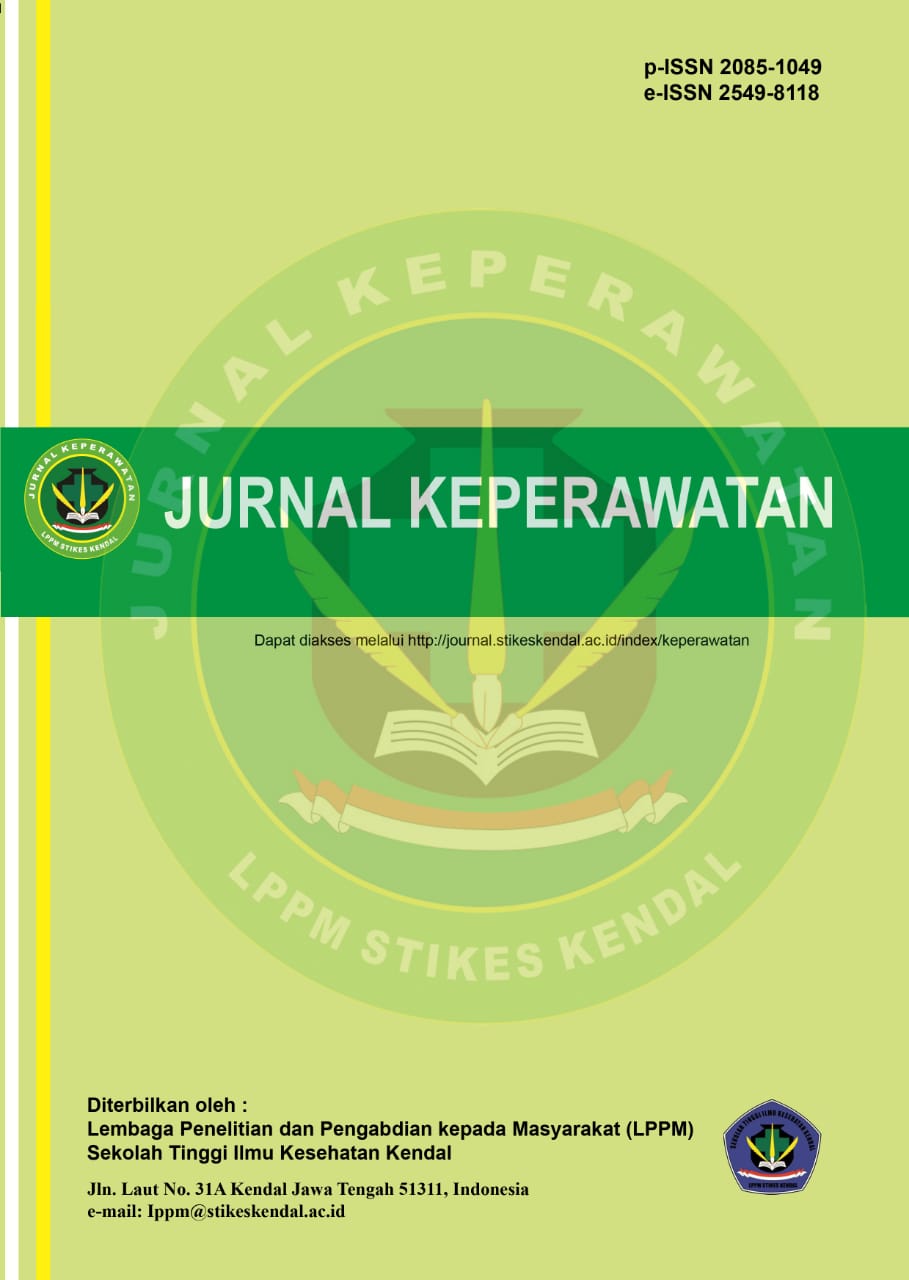 Downloads
How to Cite
Merdekawati, D., Astuti, A., & AZ, R. (2022). Peningkatan Kompetensi Perawat tentang Deteksi Dini Sirkulasi Perifer pada Penderita Diabetes Mellitus Tipe II. Jurnal Keperawatan, 14(2), 377–386. Retrieved from http://journal2.stikeskendal.ac.id/index.php/keperawatan/article/view/43
License
Copyright (c) 2022 Jurnal Keperawatan
This work is licensed under a Creative Commons Attribution-NonCommercial-NoDerivatives 4.0 International License.