Persepsi Keluarga tentang Toilet Training pada Anak Autis Dimasa Pandemi Covid-19
Keywords:
balita, pemenuhan nutrisi, social support, status gizi
Abstract
Merawat anak dengan autis dalam kehidupan dapat membuat stress dan kondisi akibat pandemi penyakit Coronavirus (COVID-19) menimbulkan gangguan tingkat tinggi pada keluarga. Autis merupakan salah satu jenis gangguan perkembangan  saraf yang ditandai dengan adanya defisit dalam komunikasi social bersama dengan pola perilaku, minat, atau aktivitas yang terbatas dan berulang. Anak dengan autis perlu dilatih kemandiriannya, salah satunya dalam melaksanakan toilet training. Penelitian ini bertujuan untuk mengidentifikasi persepsi keluarga dalam pelaksanaan toilet training pada anak autis di masa pandemic COVID-19. Metode penelitian yang digunakan adalah deskriptif kuantitatif dengan teknik pengambilan sampel dilakukan secara total sampling yaitu kepada orang tua yang memiliki anak Autis. Instrumen penelitian menggunakan kuesioner berupa pernyataan positif dan pernyataan negative. Pengambilan data dilakukan secara langsung dengan tetap melaksanakan protokol kesehatan yang ketat. Semua data yang diperoleh dan dianalisis univariat pada variabel persepsi keluarga tentang toilet training pada anak autis didasarkan pada nilai mean. Hasil penelitian didapatkan bahwa terdapat 29 orangtua memiliki persepsi positif terhadap anak Autis dengan nilai Mean ≥ 23,94 dan terdapat 21orang tua memiliki persepsi negatif terhadap anak Autis dengan nilai mean <23,94. Persepsi ini merupakan suatu tanggapan terhadap apa yang dilihat dari suatu objek yang dapat mempengaruhi pola pikir seseorang.
References
Andriyani, S, & Darmawan, D. (2020). Hubungan Antara Pengetahuan Dengan Tingkat Kecemasan Ibu Tentang Hospitalisasi Pada Anak. Jurnal Keperawatan BSI, VIII(1), 58–67. http://ejurnal.ars.ac.id/index.php/keperawatan/article/view/215
Andriyani, Septian, & Amalia, L. (2021). Dukungan Keluarga Tentang Pelaksanaan Toilet Training Pada Anak Autism Spectrum Disorder Di Kota Bandung. Dunia Keperawatan: Jurnal Keperawatan Dan Kesehatan, 9(3), 476. https://doi.org/10.20527/dk.v9i3.9435
Andriyani, Septian, Rahmi, U., Sulastri, A., & Darmawan, D. (2021). The Role of Parents in Implementing Toilet Training for Toddlers. Malaysian Journal of Medicine and Health Sciences, 17(3), 44–49.
Brewer A. "We were on our own": Mothers' experiences navigating the fragmented system of professional care for Autism. Soc Sci Med 2018; 215:61–8.
Center for Disease Control (2016). Trends in the prevalence of developmental disabilities in U.S. children, 1997-2008. Retrieved from http://www.cdc.gov/ncbddd/ developmental disabilities/features/ birth defects-dd key findings.html
DePape A-M, Lindsay S. Parents' experiences of caring for a child with Autism spectrum disorder Qual Health Res 2015; 25:569–83
Estes, A., et al. 2013. "Parenting-related Stress and Psychological Distress in Mothers of Toddlers with Autism Spectrum Disorder". Brain Development. 35:133-138.
Faizah K, others. Hubungan Antara Penerimaan Diri Dan Dukungan Sosial Orang Tua Anak Autis Dengan Interaksi Sosial Anak Autis. Edupedia 2019 ;3 :1–8.
Francis, K., Mannion, A., & Leader, G. (2017). The assessment and treatment of toileting difficulties in individuals with Autism spectrum disorder and other developmental disabilities. Review Journal of Autism and Developmental Disorders, 4(3), 190-204. [online]. Diakses https://link.springer.com/article/1 0.1007/s40489-017-0107-3
Gennaro, Francesco Di, Damiano Pizzol, Claudia Marotta, Mario Antunes, Vincenzo Racalbuto, Nicola Veronese, and Lee Smith. 2020. ―Coronavirus Diseases (COVID-19) Current Status and Future Perspectives: A Narrative Review.‖ International Journal of Environmental Research and Public Health. https://doi.org/10.3390/ijerph17082690.
Hodgetts S, McConnell D, Zwaigenbaum L, Nicholas D. The impact of Autism services on mothers' psychological wellbeing. Child Care Health Dev 2017;43:18
Jacques, C., Saulnier, G., Éthier, A., & Soulières, I. (2021). Experience of Autistic Children and Their Families During the Pandemic: From Distress to Coping Strategies. Journal of Autism and Developmental Disorders, 0123456789. https://doi.org/10.1007/s10803-021-05233-z
Kayfitz AD, Gragg MN, Robert Orr R. Positive experiences of mothers and fathers of children with autism. J Appl Res Intellect Disabil. 2010;23(4):337–43
Lasomba N, . Hubungan Dukungan Keluarga Dengan Perkembangan Motorik Pada Anak Autis Di Pusat Layanan Autis Provinsi Gorontalo. Skripsi 2015;1
Leigh-Hunt, N., Bagguley, D., Bash, K., Turner, V., Turnbull, S., Valtorta, N., & Caan, W. (2017). An overview of systematic reviews on the public health consequences of social isolation and loneliness. Public Health, 152, 157–171.
Manning, J., Billian, J., Matson, J., Allen, C., & Soares, N. (2021). Perceptions of Families of Individuals with Autism Spectrum Disorder during the COVID-19 Crisis. Journal of Autism and Developmental Disorders, 51(8), 2920–2928. https://doi.org/10.1007/s10803-020-04760-5
Miranda A, Mira A, Berenguer C, Rosello B, Baixauli I. Parenting stress in mothers of children with Autism without intellectual disability. Mediation of behavioral problems and coping strategies. Front Psychol 2019;10:464.
Okturna MM. 2004. Persepsi masyarakat terhadap jajanan sayuran di Kawasan KKP IPB Baranangsiang III [Skripsi]. Bogor: Fakultas Pertanian, Institut Pertanian Bogor
Parenteau, China I., Bent, Stephen, et al. 2020a. "Covid-19 Related Challenges and Advice from Parents of Children with Autism Spectrum Disorder". SciMedicine Journal. Vol 2: 73-82. Diakses https://dx.doi.org/10.28991/SciMedJ-2020- 02-SI-6.
Sitimin, S.A., Fikry, A., Ismail, Z., & Hussein, N. (2017). Work-family conflict among working parents of children with Autism in Malaysia. Procedia Computer Science, 105, 345–352. https://doi.org/10.1016/ j.procs.2017.01.232.
Stone, W., Rubie, L., Coonrod, E., Hepburn, S., Pennington, M., Burnette, C., et al. (2010). TRIAD social skills assessment: Second edition. Nashville: Vanderbilt Kennedy Center. Retrieved from http://uwreadilab.com/wp-content/ uploads/2015/07/TRIAD-Social-Skills- Assessment-English-version.pdf
Sutherland, J., Carnett, A., van der Meer, L., Waddington, H., Bravo, A., & McLay, L. (2018). Intensive toilet training targeting defecation for a child with Autis Spectrum Disorder. Taylor & Francis: Developmental Disabilities, 5(1), 87–97. https://doi.org/10.1080/23297018.2017.1360153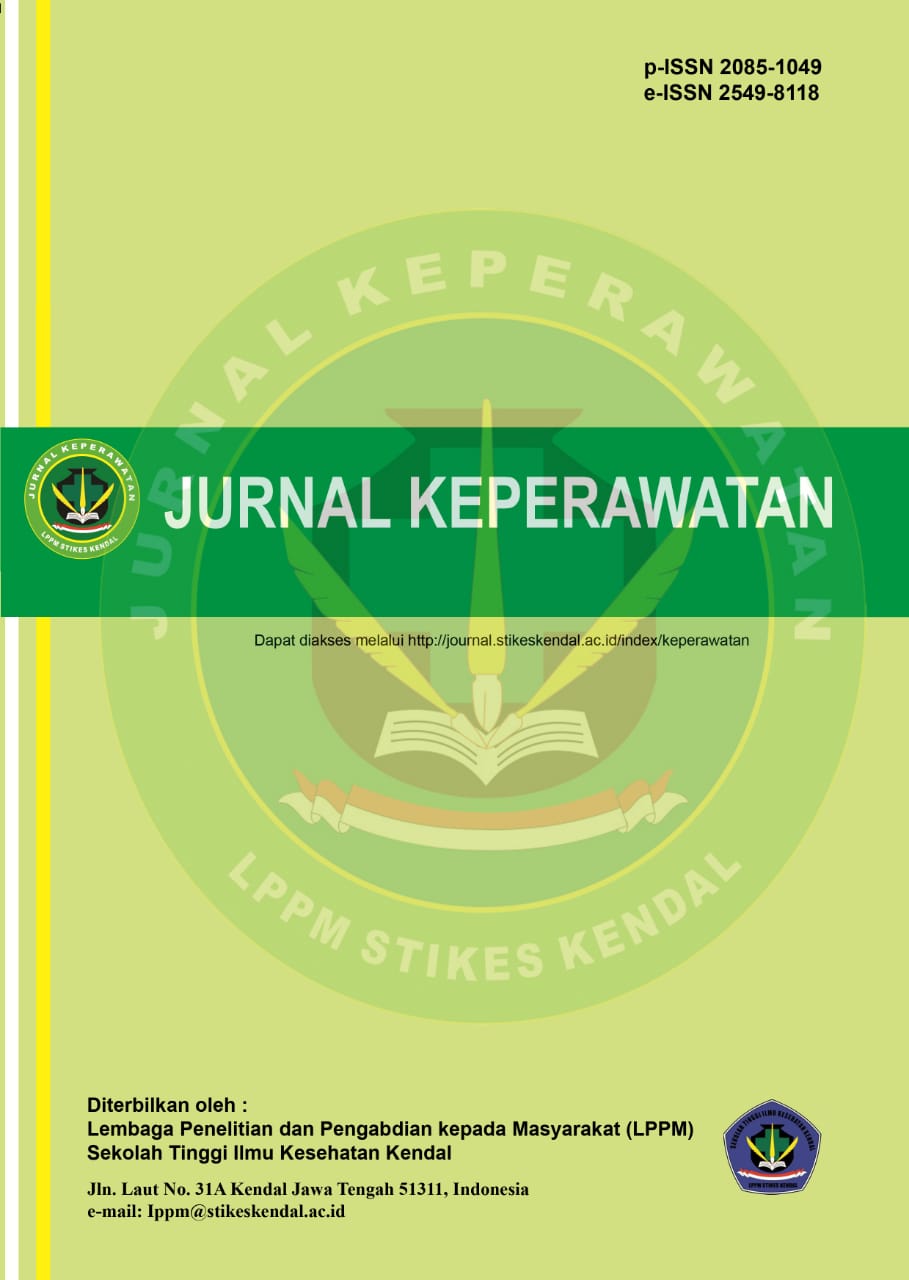 Downloads
How to Cite
Dadang Darmawan, Septian Andriyani, Sri wulandari, Upik Rahmi, & Suci Tuty Putri. (2022). Persepsi Keluarga tentang Toilet Training pada Anak Autis Dimasa Pandemi Covid-19. Jurnal Keperawatan, 14(3), 829–836. Retrieved from http://journal2.stikeskendal.ac.id/index.php/keperawatan/article/view/256
License
Copyright (c) 2022 Jurnal Keperawatan
This work is licensed under a Creative Commons Attribution-NonCommercial-NoDerivatives 4.0 International License.