Penggunaan Terapi Audio Murotal Al-Qur'an dan Efeknya terhadap Status Hemodinamik Pasien di dalam Perawatan Intensif: Tinjauan Pustaka
Keywords:
Al-Qur'an recititation, hemodinamik, intensive care unit, murottal, vital sign
Abstract
Beberapa terapi non farmakologi dipercaya dapat mempengaruhi hemodinamik pasien, namun terapi yang bedasar pada Al_quran masih belum banyak dipublikasikan. Tinjauan pustaka ini bertujuan untuk menginvestigasi studi yang meneliti pengaruh terapi murottal al-Al-Qur'an pada status hemodinamik pasien di dalam perawatan intensif. Studi ini menelusur paper dari PubMed, Science Direct, Ebsco, dan Proquest yang diterbitkan dari tahun 2016 hingga 2021. Kriteria artikel yang digunakan adalah berbahasa Inggris, dengan studi desain menggunakan Quasy-experiment atau Randomized Control Trial (RCTs). Empat artikel telah diseleksi berdasarkan kriteria, didapatkan tiga artikel terapi murottal yang secara signifikan efektif menstabilkan hemodinamik sebelum dan sesudah intervensi. Sedangkan, satu artikel menunjukan hasil yang tidak signifikan. Pemberian terapi murottal direkomendasikan untuk diberikan pada pasien di ruang intensif karena mempunyai efek menenangkan sehingga berdampak pada perubahan hemodinamik.
References
Abbaszade, F., & Shirvani, F. (2016). Recognition of the nature of evil eye and the ways of its dispel according to the famous poets of Iraqi style. International Journal of Humanities and Cultural Studies (IJHCS) ISSN 2356-5926, 1349–1358. http://www.ijhcs.com/index.php/ijhcs/article/view/1251
Al-Kaheel, A. (2011). Al-Al-Qur'an The Healing Book. Jakarta: Tarbawi Prass.
El-Hady, M. M., & Kandeel, N. A. (2017). The effect of listening to Al-Qur'an on physiological responses of mechanically ventilated Muslim patients. IOSR Journal of Nursing and Health Science, 6(5), 79–87. https://doi.org/10.9790/1959-0605097987
Elcokany, N. M., & Abd El Wareth, M. S. (2019). The Effect of Holy Quran Recitation on Clinical Outcomes of Patients Undergoing Weaning from Mechanical Ventilation. International Journal of Innovative Research in Medical Science, 4(07). https://doi.org/10.23958/ijirms/vol04-i07/726
Ervin, J. N., Kahn, J. M., Cohen, T. R., & Weingart, L. R. (2018). Teamwork in the intensif care unit. American Psychologist, 73(4), 468–477. https://doi.org/10.1037/amp0000247
Hakim, H., Syam, Y., Rachmawaty, R., Program, ), Magister, S., Keperawatan, I., Hasanuddin, U., & Abstrak, M. (2018). Efektivitas Murottal Al Al-Qur'an Terhadap Respon Fisiologis, Kecemasan Pre Operasi Dan Gelombang Otak. Jurnal Keperawatan Respati Yogyakarta, 5(3), 451–455. http://nursingjurnal.respati.ac.id/index.php/JKRY/index
Harisa, A., Wulandari, P., Ningrat, S., & Yodang, Y. (2020). Pengaruh Terapi Murottal Terhadap Depresi Pada Pasien Congestive Heart Failure Di Pusat Jantung Terpadu RSUP Dr. Wahidin Sudirohusodo. Dunia Keperawatan: Jurnal Keperawatan Dan Kesehatan, 8(2), 269. https://doi.org/10.20527/dk.v8i2.8324
Ikhtiarini, R., Dewi, E., & Kurniasari, K. (2019). Pengaruh Terapi Relaksasi Audio: Murotal Al-Quran terhadap Perubahan Tingkat Kecemasan di Ruang ICU RSUD Ir. Soekarno Sukoharjo. http://hdl.handle.net/11617/11884
Irman, I., Natashia, D., & Gayatri, D. (2021). Stimulasi Auditori Menggunakan Murottal terhadap Vital Signs Pasien Stroke Fase Akut. Jurnal Keperawatan Silampari, 4(2), 625–633. https://doi.org/10.31539/jks.v4i2.1926
Kosasih, C. E., Andriani, A. D., Lestari, A. A., Sekarjati, F. M., Iqomatulhaq, H., Audini, J. J., Lestary, M. V., Ramdan, M., Nurcholivatun, R., Agustin, R. R., Almuwaroh, T., & Manaf, Y. A. (2019). Effects of Abdominal Massage to Overcome Gastrointestinal Dysfunction in Patients in Intensif Care Unit: A Literature Review. Padjadjaran Acute Care Nursing Journal, 1(1), 60–68. https://doi.org/10.24198/pacnj.v1i1.24856
Maryani, N. A. (2021). Pengaruh Terapi Murottal Surah Ar-Rahman terhadap Status Hemodinamik Anak dengan Ventilasi Mekanik di Ruang PICU RSUD Abdul Wahab Sjahranie Samarinda. Borneo Student Research (BSR), 2(3), 1759–1765.
Nafi'ah, R. Z., Maliya, A., & Dewi, E. (2016). Pengaruh Terapi Murottal Al-Quran Terhadap Tekanan Darah Dan Frekuensi Denyut Jantung Pasien Pasca Operasi Dengan Anestesi Umum Di Rumah Sakit Umum Daerah Dr. Moewardi Surakarta. Universitas Muhammadiyah Surakarta.
Nasiri, A. A., Shahdadi, H., Mansouri, A., & Bandani, E. (2017). An Investigation into the Effect of Listening to the Voice of the Holy Quran on Vital Signs and Consciousness Level of Patients Admitted to the ICU Wards of Zabol University of Medical Sciences Hospitals. World Family Medicine, 15(10), 75–79. https://doi.org/10.5742/MEWFM.2017.93142
Nayef, E. G., & Wahab, M. N. A. (2018). The Effect of Recitation Quran on the Human Emotions. International Journal of Academic Research in Business and Social Sciences, 8(2), 50–70. https://doi.org/10.6007/IJARBSS/v8-i2/3852
Nejad, M. A., Nesami, M. B., Jafari, H., Nasab, N. M., & Kaheni, S. (2018). Comparing the effect of Quran recitation and scheduled visits on hemodynamic status and oxygen saturation of acute myocardial infarction patients. Journal of Nursing and Midwifery Sciences, 5(1), 1–8. https://doi.org/DOI:10.4103/JNMS.JNMS_11_18
Rustam, J., Kongsuwan, W., & Kitrungrote, L. (2017). Effect of Comfort Care Integrated with the Holy Al-Qur'an Recitation on Comfort of Muslim Patients under Mechanical Ventilation: A Pilot Studi. Medical - Surgical Nursing Journal, 6(1), 34–40. https://doi.org/10.31227/osf.io/yg4xm
Setyawati, A., Ibrahim, K., & Mulyati, T. (2016). Pengaruh Foot Massage terhadap Parameter Hemodinamik Non Invasif pada Pasien di General Intensif Care Unit. Jurnal Keperawatan Padjadjaran, v4(n3), 283–292. https://doi.org/10.24198/jkp.v4n3.8
WHO. (2015). World health statistics 2015. World Health Organization.
Yadak, M., Ansari, K. A., Qutub, H., Al-Otaibi, H., Al-Omar, O., Al-Onizi, N., & Farooqi, F. A. (2019). The Effect of Listening to Holy Quran Recitation on Weaning Patients Receiving Mechanical Ventilation in the Intensif Care Unit: A Pilot Studi. Journal of Religion and Health, 58(1), 64–73. https://doi.org/10.1007/s10943-017-0500-3
Zainuddin, R., & Maru, R. La. (2019). Efektivitas Terapi Murottal Al-Quran Terhadap Kecemasan Anak Dengan Leukemia "Literature Review." (Jkg) Jurnal Keperawatan Global, 4(2), 109–114. https://doi.org/10.37341/jkg.v4i2.69.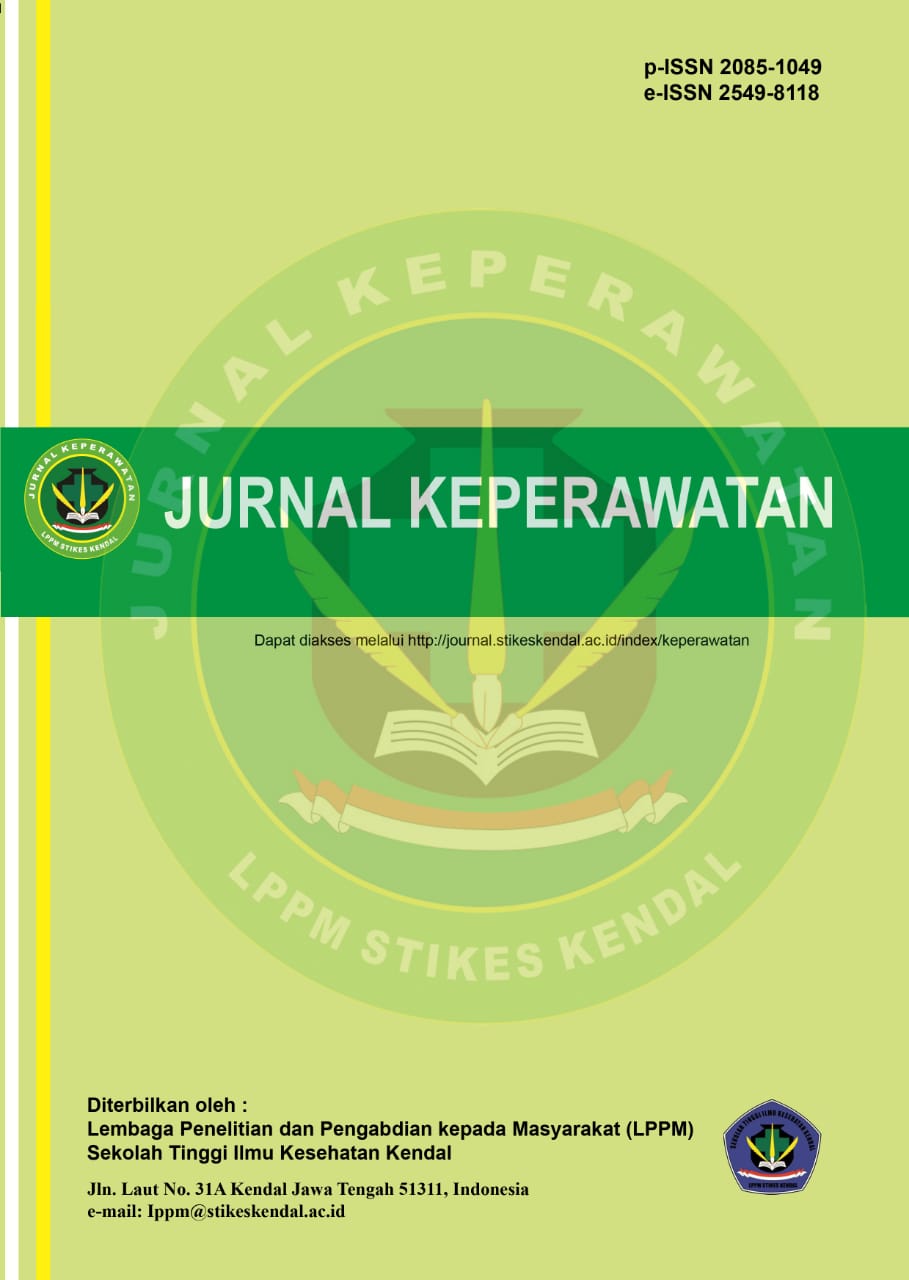 Downloads
How to Cite
Mutiah, S., & Dewi, E. (2022). Penggunaan Terapi Audio Murotal Al-Qur'an dan Efeknya terhadap Status Hemodinamik Pasien di dalam Perawatan Intensif: Tinjauan Pustaka. Jurnal Keperawatan, 14(2), 473–480. Retrieved from http://journal2.stikeskendal.ac.id/index.php/keperawatan/article/view/191
License
Copyright (c) 2022 Jurnal Keperawatan
This work is licensed under a Creative Commons Attribution-NonCommercial-NoDerivatives 4.0 International License.