Efektivitas Pemberian Discharge Planning terhadap Perilaku Menyusui pada Ibu Seksio Sesarea: Systematic Review
Keywords:
discharge planning, laktasi, menyusui, seksio sesarea
Abstract
Tujuan untuk mengidentifikasi efektifitas pemberian discharge planning terhadap perilaku menyusui pada ibu seksio sesarea    Pencarian jurnal dilakukan di database elektronik, yaitu PubMed, ScienceDirect, Willey, ProQuest pada artikel yang dipublikasikan dan diterbitkan pada tahun 2015   sampai 2021. Didapatkan 8 artikel yang memenuhi syarat berkaitan dengan Pemberian Discharge Planning Terhadap Perilaku Menyusui Pada Ibu Sestio Sesarea. Pemberian discharge planning secara efektif meningkatkan pengetahuan menyusui untuk wanita sesar dan meningkatkan perilaku menyusui mereka dan kepuasan menyusui setelah melahirkan.
References
Arora, G., Jelly, P., Mundhra, R., & Sharma, R. (2021). Comparison of L-Shape and Side-Lying Positions on Breastfeeding Outcomes among Mothers Delivered by Cesarean Section: A Randomized Clinical Trial. Journal of Caring Sciences., 10(3).
Bose, A., Rath, K., & Nayak, N. (2021). Impact of Early Skin-To-Skin Contact among Cesarean Section Mother on Breastfeeding, Neonatal Adaptation and Maternal Satisfaction. European Journal of Molecular & Clinical Medicine, 8(2).
Chawanpaiboon, S., Titapant, V., & Pooliam, J. (2021). A randomized controlled trial of the effect of music during cesarean sections and the early postpartum period on breastfeeding rates. Breastfeeding Medicine, 16(3).
Ding, T., & Luo, B. (2019). Effect of individualized intervention on postpartum breast-feeding behavior after cesarean section. Sichuan da xue xue bao. Yi xue ban. Journal of Sichuan University. Medical Science Edition., 50(4).
Hobbs, A. J., Mannion, C. A., McDonald, S. W., Brockway, M., & Tough, S. C. (2016). The impact of caesarean section on breastfeeding initiation, duration and difficulties in the first four months postpartum. BMC Pregnancy and Childbirth, 16.
Hu, L., Ding, T., Hu, J., & Luo, B. (2020). Promoting breastfeeding in Chinese women undergoing cesarean section based on the health belief model: A randomized controlled trial. Medicine.
Hulsbosch, L. P., Potharst, E. S., Boekhorst, M. G., Nyklíček, I., & Pop, V. J. (2021). Breastfeeding intention and trait mindfulness during pregnancy. Midwifery.
Jabraeili, M., & Seyedrasouli, A. (2017). Impact of skin-to-skin care on satisfaction and experience of cesarean mothers: A randomized, double-blinded clinical trial", ,. Annals of Tropical Medicine and Public Health.
Kemenkes RI. (2018). Riset Kesehatan Dasar.
Nilsson, I. M., Strandberg‐Larsen, K., Knight, C. H., Hansen, A. V., & Kronborg, H. (2017). Focused breastfeeding counselling improves short‐and long‐term success in an early‐discharge setting: A cluster‐randomized study. 13(4). Maternal & Child Nutrition, 13(4).
Pemerintah RI. (2012). Peraturan Pemerintah Republik Indonesia Nomor 33 Tahun 2012 Tentang Pemberian Air Susu Ibu Eksklusif.
Sheedy, G. M., Stulz, V. M., & Stevens, J. (2022). Exploring outcomes for women and neonates having skin-to-skin contact during caesarean birth: A quasi-experimental design and qualitative study. Women and Birth.
Shukri, N. H. M., Wells, J., Mukhtar, F., Lee, M. H. S., & Fewtrell, M. (2017). Study protocol: An investigation of mother-infant signalling during breastfeeding using a randomised trial to test the effectiveness of breastfeeding relaxation therapy on maternal psychological state, breast milk production and infant behaviour and growt. International Breastfeeding Journal, 12(1).
Song, J.-E., Chae, H.-J., Ko, J. M., Yang, J. I., & Kim, T. (2020). Effects of a maternal role adjustment program for first time mothers who use postpartum care centers in south korea: A quasi-experimental study. BMC Pregnancy and Childbirth, 20.
Wen, J., Yu, G., Kong, Y., Wei, H., Zhao, S., & Liu, F. (2021). Effects of a theory of planned behavior-based intervention on breastfeeding behaviors after cesarean section: A randomized controlled trial. International Journal of Nursing Sciences, 8(2).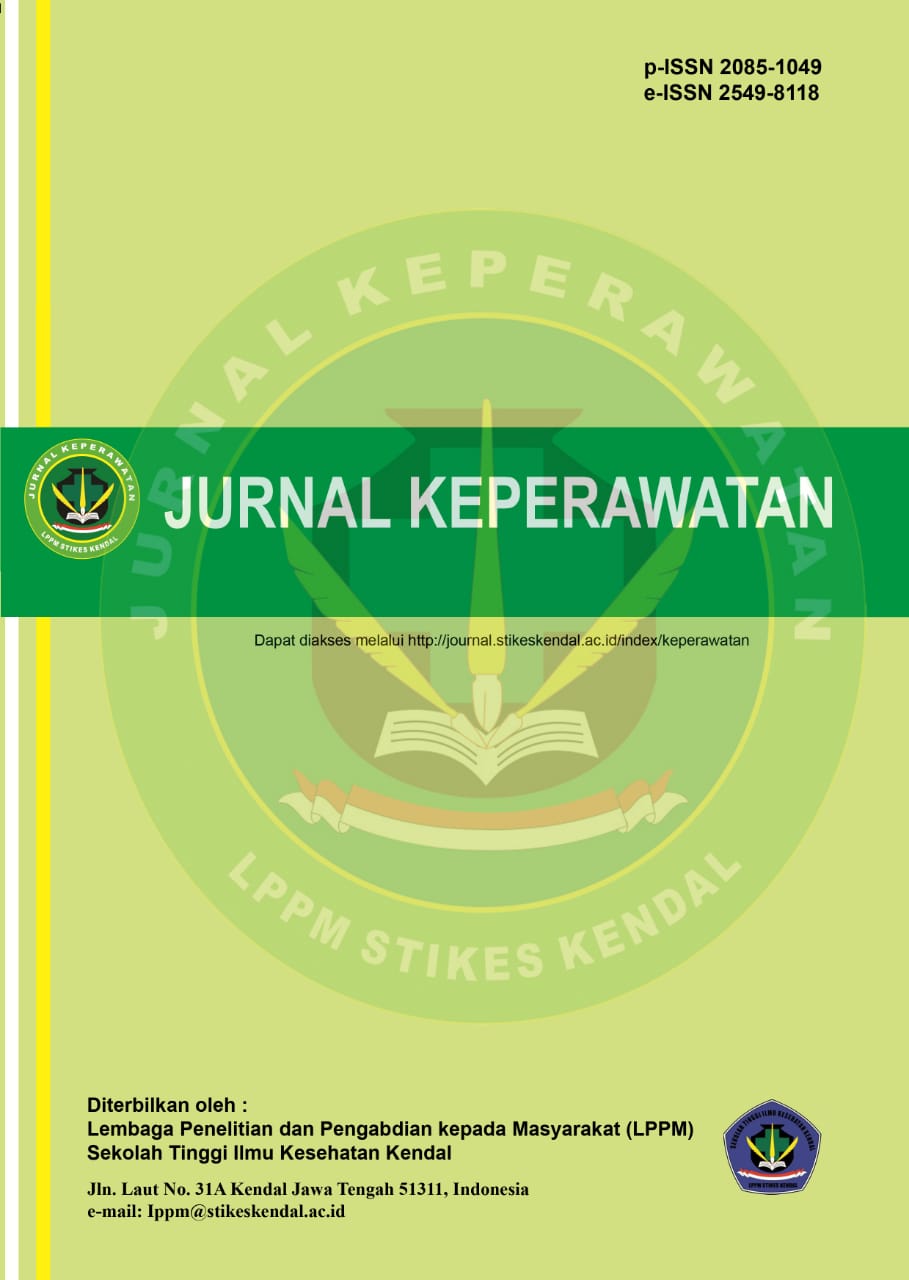 Downloads
How to Cite
Ice, B. F. ., Setyowati, S., & Rachmawati , I. N. (2022). Efektivitas Pemberian Discharge Planning terhadap Perilaku Menyusui pada Ibu Seksio Sesarea: Systematic Review. Jurnal Keperawatan, 14(2), 351–358. Retrieved from http://journal2.stikeskendal.ac.id/index.php/keperawatan/article/view/176
License
Copyright (c) 2022 Jurnal Keperawatan
This work is licensed under a Creative Commons Attribution-NonCommercial-NoDerivatives 4.0 International License.